A step change in sustainability for wood based panels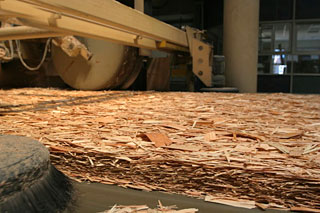 Plywood, OSB, MDF and particleboard are examples of wood based panels that will typically use formaldehyde based binders.
The step change in sustainability offered by ECOSE® Technology remains valid in wood based
panels when switching from a traditional binder system to ECOSE® Technology.
Some of the benefits obtained by introducing ECOSE® Technology stand out for wood based panels:
Renewability

Since wood itself is a renewable resource, the use of ECOSE® Technology, a binder technology also based on a renewable resource, further enhances the overall sustainability of the wood based panel.
Regulations

Because ECOSE® Technology does not ad any formaldehyde through the binder, lower in plant emissions are achieved thereby improving worker safety.
Emissions from the final product, the wood based panel, are also reduced resulting in improved indoor air quality (IAQ) in product application, in compliance with the most stringent standards.
Product performance

The use of ECOSE® Technology in wood based panels offers a demonstrated potential for enhanced product performance in terms of panel stiffness, bending strength, internal bond strength and durability.
For further information, please contact us via the contact form.